As I've mentioned in other threads, Matt Bullus and I have been scheming to modify this bass for quite a while now, and it's now a done deal! Thanks Matt, you absolutely nailed it.
I basically had the idea to add a P-bass style pickup to a bass that already has my other favourite tone ever i.e a Stingray 5 with the 3 coil ceramic pickup. Ideally I'd just own one of each bass but my band does a lot of medleys and I simply don't have time to put one bass down and grab another one. I wanted to have these two very different sounds at my fingertips on one bass. My MTD Heir has been pretty good for this but I wanted to try for a more authentic Stingray and P-bass representation.
The plan was to start with a SR5, add a reputable P bass pickup of my preference (in my case Nordstrand). The pickups are likely to vary in level so I'm adding a Bart buffer circuit with individual level control for each pickup. My preference was obviously the authentic MM tone and if I can get the Pbass tone in the ballpark I would be happy.
I didn't want to cut into my existing SR5 bass so I first off bought a used on this forum from Crazybass a while ago. Only problem is it had the dual coil Alnico pickup. First step was to buy a genuine MM 3 coil Ceramic pickup of TB (I got lucky, they don't pop up very often and MM won't sell them to you).
Matt first had to do some routing to make the 3 coil pickup fit:-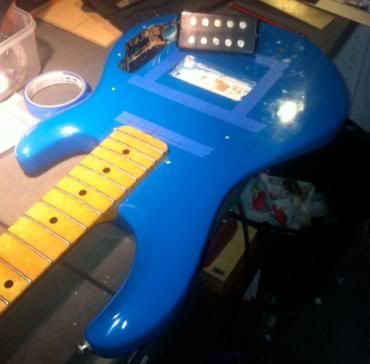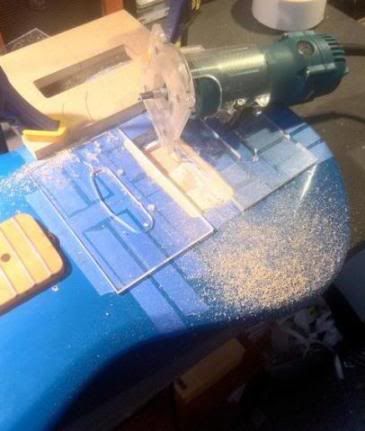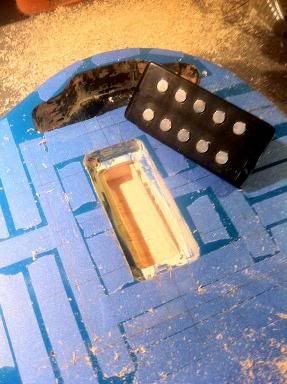 The electronics cavity had to be enlarged to house the Bartolini buffer circuit which will allow for fine tuning of the pickup output levels. Matt had to make up a template especially for this project. That's dedication for you!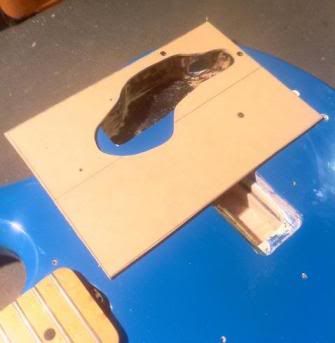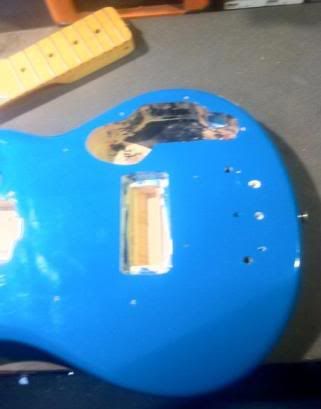 Next step is to rout out the timber to fit in the PBass pickups. Another custom template was required:-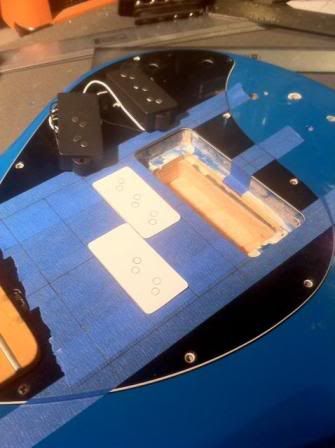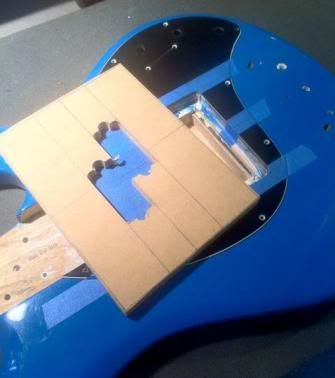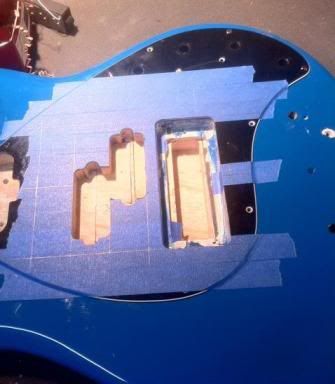 Add some black paint to all the new routing to make it look pretty:-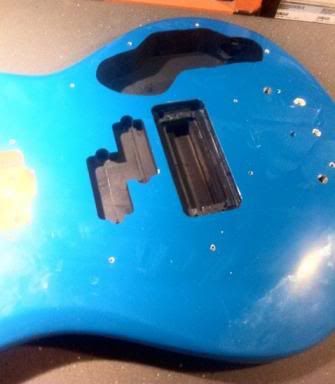 Drilling a hole to connect the newly cut Pbass pickup wiring to the electronics cavity:-
Now install everything - and there was lots to install. The two small holes just above the knobs are the two trimpots for the bartolini buffer circuit. A small flat head screwdriver allow me to adjust pickup levels with easy access.
And here it is, the finished product:-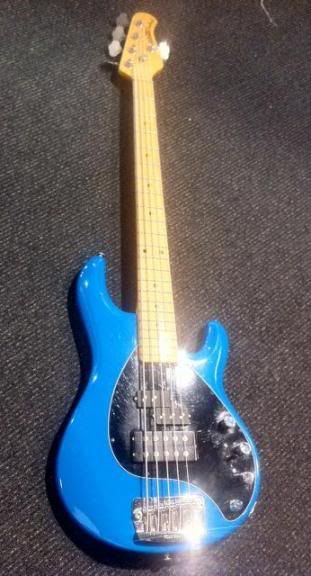 What can I say, Matt's workmanship is superb! There's obviously a LOT of work done on this bass, which means lots of opportunity to make a mistake for mere mortals - But not Matt.....he is a true professional and I can't say enough about how good a job he did on this bass.
I've done 3 gigs with this bass since picking it up. The 3 coil MM pickup sounds EXACTLY like my other bass with the same pickup - as it should. The Pbass pickup sounds brighter than the typical passive Pbass sound we're all familiar with, but that's to be expected given this is an active bass. I can however get that passive Pbass growl buy using the EQ on the bass i.e winding off the treble and boosting some mids. The bottom end on the Pbass pickup is MONSTROUS. Too much in fact. I've had to adjust pickup heights to try and level them a little bit so.
I'm still tweaking but I'm already sure this bass is very much a keeper. I fact my MTD and normal SR5 might struggle to get any stage time for now.