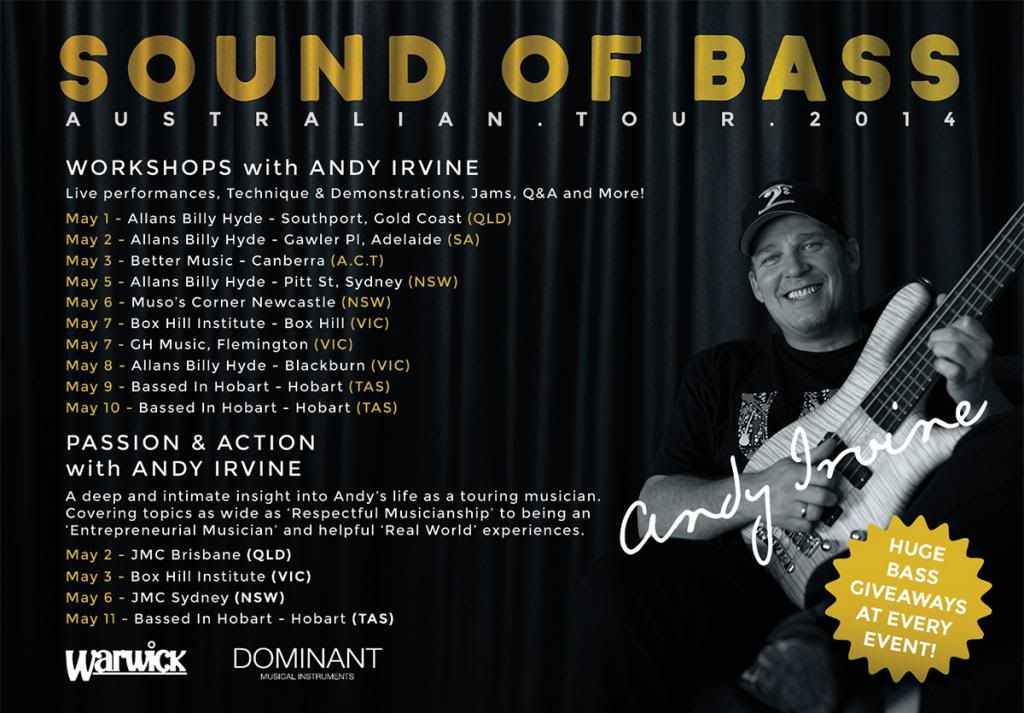 Experience the driving bass grooves, huge tone and ferocious soloing of world-renowned bass player Andy Irvine as he presents his 'Sound of Bass' Workshop Tour across 15 shows nationally. Andy is also presenting his 'Passion & Action' talk & workshop in 3 special locations.
Win a Years supply of strings valued at $360.00 at each event.
Every attendee goes in the draw to win a WARWICK ALIEN 4 STRING Valued at $2699.00
With live performances, Technique Demonstrations, Q&A, product demos, jams and heaps more! Absolutely FREE!
Andy has toured with over 25 artists and delivered solid bass lines to over 50 successful albums covering a wide range of styles from funk, soul, blues, jazz, gospel and rock. His most recent tours include Mississippi based piano virtuoso Eden Brent, Eddie Turner, On The One and Giant People. He has also led various groups including The Andy Irvine Group (blues/funk), Beanstalk (futuristic groove trio), and Project Mind Flip (all-star international electro/funk group).
Irvine's style can best be described as holding down thick fundamental support lines, ripping aggressive bass solos, & everything in between!
Find all the info on the 'Sound of Bass' Workshops & the 'Passion & Action' talk & workshop as well as venues, dates and more :
http://www.warwickbass.com.au
You can learn more about Andy in his exclusive interview in the current issue of Mixdown
http://issuu.com/furstmedia/docs/mixdow ... 23/7420106