Ozbass t-shirts are available now until stocks run out, price is
$22, shipping included
it also includes an upgrade to supporting membership which gives you full access to the Classifieds Forums.
The t-shirts are Hanes brand. Here's a size chart of the shirt, please measure up your favourite size t-shirt you own before asking for a specific size. Sizes change *a lot* between brands.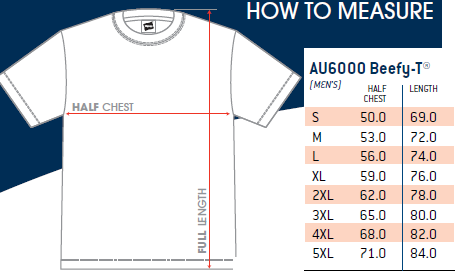 How to order a t-shirt:
Have a look at the numbers up there to see if the size you want is available, the list wil always be current, if your size is there, click on the Paypal Donate button at the bottom of the page and pay for the t-shirt. Once done, send me a PM with your
t-shirt size/colour
and
your name and adress
to send the t-shirt to, don't forget to leave you Ozbass
member name
so I know who's membership to upgrade. You can also write all this down in the comment box when doing the paypal payment. If you don't write down which colour shirt you prefer you automatically get black.
The
Official Ozbass t-shirt is black with white screen printed logo
although other colours are available and is available in these sizes:
This list will be edited each time a shirt sells so you can always keep track if there's one of your size available.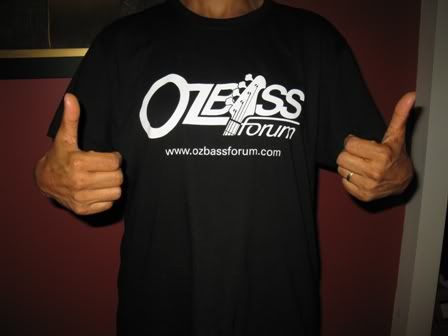 Official Black T-shirt with white logo
Small: 3
Medium: 0
Large: 4
X Large: 0
2X Large: 0
3X Large: 7
4X Large: 1
Ash t-shirt with black logo
Small: 2
Medium: 0
Large: 7
XL: 0
2XL: 0
3XL : 0
4XL: 1 (white t-shirt)
FAQ:

I'm already a supporting member do I get a reduction on the price?
- Sorry no, the t-shirts are actually quite expensive to have produced locally, there's hardly any profits at all in them. The cost of this t-shirt will be added towards your Gold Supporting Membership
I just bought 2 t-shirts do I get a reduction of shipping costs?
- sorry no, the t-shirts are actualy sent in a prepaid A4 size envelope to save on cost, so the two t-shirts will arrive in two seperate envelopes.
Shipping usually takes 2 days once the envelope has been dropped in the postbox. If you have paid for your shirt and didn't receive it within 7 days, please let me know through PM or e-mail.
Phil